One of the most famous animals endemic to Argentina are both adorable: the Pink Fairy Armadillo and the Patagonian Mara.

The Patagonian mara (Dolichotis patagonum) is a big rodent; a relative of the guinea pig that can weight up to 16 kg as an adult. Maras are the fourth-largest rodents in the world, after capybaras, beavers and porcupines. The Patagonian mara is only found in Argentina, from 28 to 50°S. Their range used to be much bigger than what it is today, and they could be encountered all the way from north-central Argentina to areas near Tierra del Fuego. Since then, their range has shrunk due to hunting and habitat loss, and they are for instance extinct from the Buenos Aires province. The Patagonian maras prefer open and semi-open habitats with shrub cover, but can also survive in the barren landscape of the Monte Desert biome. In north-western Argentina, they are even found in forests.

The Pink Fairy Armadillo (Chlamyphorus truncatus) is the smallest of all the armadillos and can only be found in central Argentina, where it inhabits sandy plains, dunes and scrubby grasslands. In Argentina, it is known as Pichiciego pampeano – the Pichiciego of the Pampas. Pichey is the Guarani term for small armadillos, while ciego means blind in Spanish. The Pink fairy armadillo is a burrowing, night-active animal with small eyes. It is protected by pale pink plates on the head and back, while the sides and belly are covered in a lushness of white silky hair. These little armadillos typically stay in the 9-11 cm range in length and weighs around 120 grams. We still know very little about this unusually looking armadillo and the IUCN has not even assigned it a conservation status yet.
Below, we have listed a few other animals that are endemic to Argentina. The lists are by no means complete, as Argentina is home to a wide range of endemic animals.
Examples of mammals endemic to Argentina
Pink Fairy Armadillo
Yungas Lesser Long-nosed Armadillo
Patagonian Mara
Patagonian Opossum
Mesopotamian Fat-tailed Opossum
Chacoan Pygmy Opossum
The Eptesicus ulapesensis bat
Uspallata Chincilla Rat
Cinnamon Tuco-Tuco (a burrowing rodent)
Medoza Tuco-Tuco (a burrowing rodent)
Examples of endemic birds
Carbon Sierra-finch
White-browed Tapaculo
Hooded Grebe
Sandy Gallito
Steinbach's Canastero
Examples of endemic snakes
Sierra de la Ventana Ground Snake
Mousehole Snake
Patagonian Lancehead
The whole genus Pseudotomodon
Examples of endemic frogs and toads
Cordoba tree frog
Christian's Marsupial frog
Achala's four-eyed frog
Santa Victoria oval frog
Neuquen gargoyle frog
Somuncura frog
Baritu robber frog
Patagonia frog
Bumblebee toad
Salta toad
Examples of endemic lizards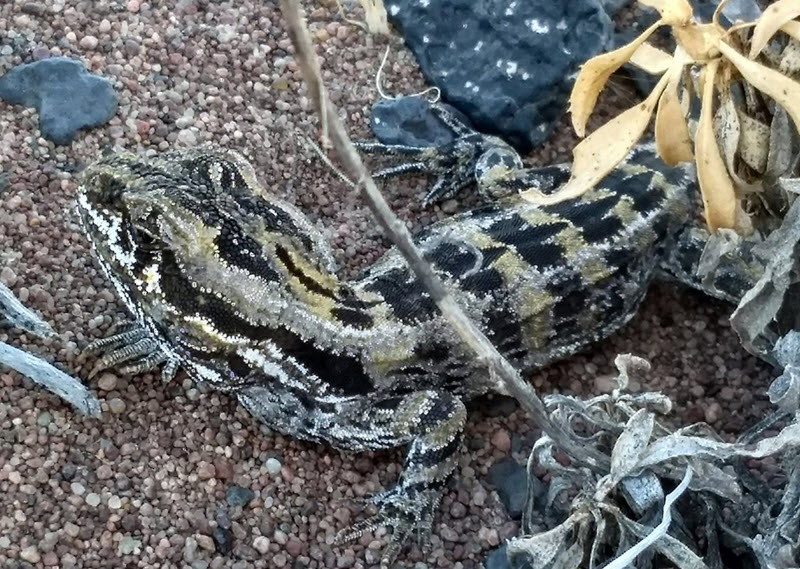 Bell´s Anole
Taragui Gecko
Longtal Whiptail
Patagonian Mountain Lizard
Copper Lizard
Over one hundred of the species belonging to the genus Liolaemus
Examples of endemic insects
The butterfly Haywardella edmondsii
The dragonfly Staurophlebia bosqi
The ant Pseudoatta argentina
The bee Litocalliopsis adesmiae
Examples of endemic spiders, scorpions and solifuges
The tarantulas Acanthoscurria cordubensis and Grammostola vachoni
The jumping spider Tapsatella albocastanea
The tree trapdorr spider Calathotarsus simoni
The scorpion Mauryius cuyanus
The solifuges Gaucha ramirezi